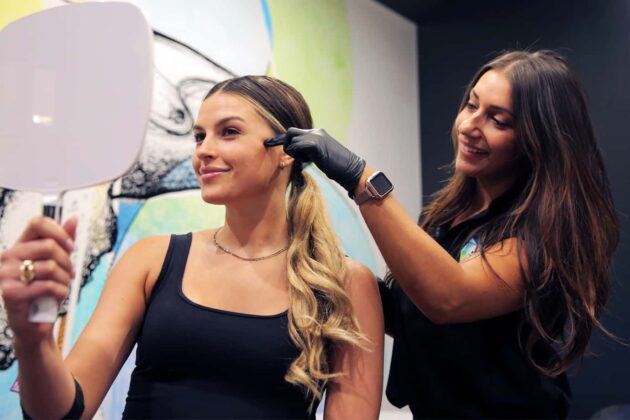 Aesthetics
Our aesthetics team built of all nurse practitioners offer cutting-edge nonsurgical treatments and procedures to defy the aging process. From medical-grade skincare, botox, laser resurfacing, filler, micro-needling the list goes on and on. Our team will help you come up with the perfect game plan designed just for you to not only make you look great but feel great. 
Neurotoxins
Working beneath the surface and temporarily reducing the underlying muscle activity that causes moderate to severe frown lines, forehead lines, and crow's feet to help them look visibly smoother.
Injectables
Add volume to plump lips, smooth lines, or lift & contour cheeks. No matter what it is, we have what you need to get the results you want.
Lips
Juvederm Ultra


$525.00
---
Juvederm Ultra Plus


$600.00
---
Volbella


$649.00
---
Volbella 1/2 Syringe


$329.00
---
Restylane Silk


$600.00
---
Restylane Kysse


$655.00
---
Midface
Restylane Lyft


$750.00
---
Juvederm Voluma


$750.00
---
Lower Face
Restylane Defyne


$650.00
---
Restylane Refyne


$600.00
---
Restylane L Full


$600.00
---
Restylane L 1/2 Syringe


$429.00
---
Kybella


$599.00
---
Skin Bar
Facials. Microneedling. PRP. Peels
Diamond Glow


$189.00
---
Dermaplane


$39.00
---
ZO 3 Step Peel


$300.00
---
Microneedling Chest


$179.00
---
PRP Hair Package of 3


$1500.00
---
PRP Hair Restoration


$599.00
---
PRP Upgraded Microneedling


$429.00
---
Microneedling


$189.00
---
Rejuvenize Peel


$155.00
---
Vitalize Peel


$135.00
---
Illuminize Peel


$125.00
---
Microneedling Neck Add On


$50.00
---
Microneedling Neck


$99.00
---
Laser Therapies
Forever Young
Face BBL Package Of 3


$1135
---
Face BBL


$450.00
---
Forever Body
Back


$599.00
---
Chest, Arms & Back


$1200.00
---
Legs


$1200.00
---
Face & Chest BBL


$800.00
---
Neck & Chest Package Of 3 BBL


$1499.00
---
Neck & Chest


$599.00
---
Forever Clear
Forever Clear Package Of 6


$799.00
---
Forever Clear Package Of 4


$499.00
---
Forever Clear


$150.00
---
Forever Bare
Forever Bare Large Area


$125.00
---
Forever Bare Chest


$300.00
---
Forever Bare Armpits


$150.00
---
Skintyte
SkinTyte Add On Per Area


$150.00
---
SkinTyte Package Of 6


$900.00
---
SkinTyte


$150.00
---